Campaign Finance
Voters have a right to know which wealthy special interests are spending big money to secretly influence our vote and our government to rig the political system in their favor.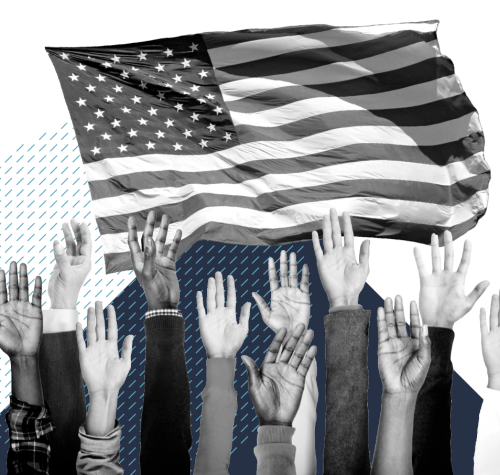 The Latest on Campaign Finance
Ultra Featured Article
Photo by Casey Atkins/Campaign Legal Center
Recent Campaign Finance Cases and Actions
Meta Platforms, Inc. has challenged a Washington state law requiring online platforms to provide information to the public about the funding and targeting of political ads run on their platforms. CLC is supporting the state of Washington in its defense of this disclosure law. 
End Citizens United PAC (ECU), represented by Campaign Legal Center Action (CLCA), filed suit against the FEC after the agency dismissed a complaint alleging the Trump campaign illegally solicited unlimited contributions to a super PAC. ECU sued to force the FEC to do its job and hold the campaign accountable.
Campaign Legal Center Action is representing Voters' Right to Know, the political action committee that wrote and campaigned for Arizona's Proposition 211, which requires major campaign spenders to disclose the true sources of money behind campaign media spending.
CLC Action is helping to defend the law in federal court.
The First Amendment guarantees every American the right to participate fully in the political process.
The dependence of political candidates on wealthy special interests is a serious flaw in our political system, and makes elected officials responsive to their large donors rather than to the public. The tremendous power of special interest money in politics often drowns out the voice of everyday Americans, threatens our First Amendment freedoms, and erodes the foundations of our entire democracy. To restore fairness to our political system, CLC advocates for passing and enforcing strong campaign finance reforms that help guarantee a democracy responsive to the people.
These reform solutions include placing reasonable limits on funding of campaigns, complete transparency of campaign spending and public financing of elections. CLC helps enact such policies at the state, local and federal levels, and works to ensure that the Federal Election Commission enforces current campaign finance laws. CLC also defends laws that promote the First Amendment's guarantee that every American has the ability to participate in the democratic process.
Displaying 1 - 20 of 3006 Results