Image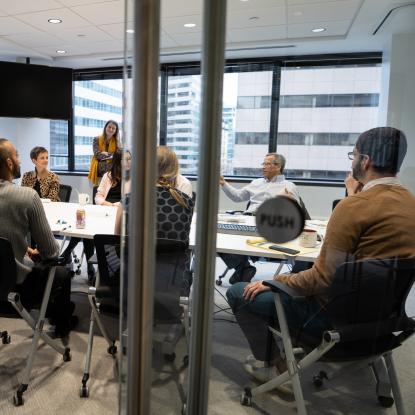 At Campaign Legal Center (CLC), we are advancing democracy through law, fighting for every American's right to participate in the democratic process. CLC uses tactics such as litigation, policy and advocacy, communications and partnerships to win victories that result in a more transparent, accountable and inclusive democracy. Our long-term goal is a government responsive to the people.
CLC's commitment is to democracy, not to any political party or to any particular electoral result. We think about systemic impact when we choose which work to pursue, but we work at all levels of government to introduce innovative ideas that will drive significant change or set an important legal precedent. Our priority is engaging and driving action – whether in the courtroom, newsroom or statehouse.
Mission
The nonpartisan Campaign Legal Center advances democracy through law at the federal, state and local levels, fighting for every American's rights to responsive government and a fair opportunity to participate in and affect the democratic process.
Vision
CLC seeks a future in which the American political process is accessible to all citizens, resulting in representative, responsive and accountable government.
Guiding Principles 
The staff at CLC are guided by the following principles:  
Our commitment will always be to democracy, not to political parties or electoral results. 
We respect the American people and their freedom to vote. We are fighting for every American to participate in and affect the political process regardless of race, economic status, or political affiliation. 
We practice excellence and prioritize accuracy. We are thoughtful and proceed with care. 
We are committed to acting with respect and empathy both in our work and within our organization.
We strive to be good partners and collaborators while staying true to our non-partisan principles. 
We think about systemic impact when choosing what work to take. We work at any level of government when it introduces an innovative idea, could drive significant change at scale or sets an important precedent.
Our Impact
Since 2002, CLC has been advancing democracy through law. 
Staff
Board of Trustees and Advisors
Meet CLC's Board of Trustees and Litigation Strategy Council 
Careers and Internships
CLC is an equal opportunity employer, which welcomes qualified applicants of all races, ethnicities, physical abilities, genders and sexual orientations. CLC offers competitive salaries and excellent benefits.
Please review the current job openings and internships
Funding
Donations from individuals and foundations to Campaign Legal Center  — a 501(c)(3) nonprofit, nonpartisan organization — make possible our work in campaign finance, voting rights, redistricting and government ethics. All donations are tax deductible to the fullest extent allowed by law. Given our commitment to transparency and accountability, CLC discloses all donations of $200 or greater made within the past twelve months. We update the list on a monthly basis. We are grateful to the individual and institutional donors who have supported our work over the past year. 
Financials 
Campaign Legal Center is pleased to share with you our financial records. 
2020 Audited Financial Statement
Contact Us
We would love to hear from you!  Feel free to reach out with questions or concerns.