Voting and Elections
In our elections, every voice must be heard, and every vote must count. Voting should be accessible for all citizens, and our laws should promote participation in our democracy and instill trust in our elections.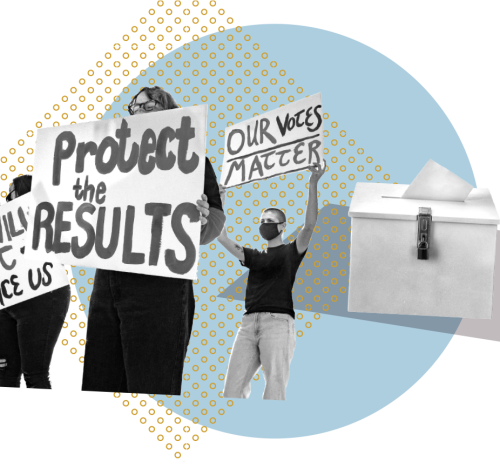 The Latest on Voting and Elections
The Supreme Court case that could allow state legislatures to sabotage elections
Voters should be the ones who decide elections, not partisan politicians.
Recent voting cases and actions
Campaign Legal Center (CLC) is advocating to ensure that Arizonans' voices are heard on the issues that impact their lives by protecting the First Amendment rights of those who gather and sign petitions to place initiatives on the ballot.  
The League of Women Voters of Missouri and Missouri State Conference of the NAACP are challenging several parts of Missouri's anti-voter bill that restrict civic engagement groups' ability to assist with voter registration and absentee ballot applications. 
Campaign Legal Center and co-counsel filed a lawsuit on behalf of several national and Arizona-based organizations alleging that Arizona's new anti-voter law — H.B. 2492 — imposes severe, arbitrary and discriminatory burdens on Arizona voters that undermine their freedom to vote and violate federal law.
Voting should be accessible for all citizens, no matter where they live, the color of their skin or how much money they make.
To make every vote count, our elections must be safe and accessible so everyone's voice is heard, including those who have served their time and paid their debt to society. 
CLC believes that state and federal policies should uniformly protect the right to vote, promote trust in our elections and boost voter participation across the United States. Through litigation, policy analysis, state-based advocacy and public education, CLC seeks to protect the freedom to vote and build confidence in our election system. 
Explore all content related to our voting and elections work
Displaying 21 - 40 of 1560 Results