Voting and Elections
In our elections, every voice must be heard, and every vote must count. Voting should be accessible for all citizens, and our laws should promote participation in our democracy and instill trust in our elections.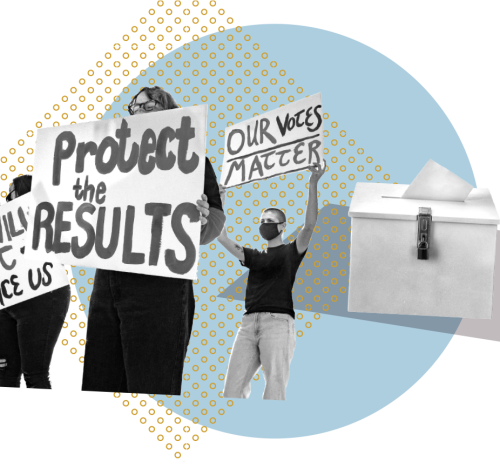 The Latest on Voting and Elections
Ultra Featured Article
Photo by Blair Bowie/Campaign Legal Center
The Supreme Court case that could allow state legislatures to sabotage elections
Voters should be the ones who decide elections, not partisan politicians.
Recent voting cases and actions
In 2021, President Biden issued an Executive Order Promoting Access to Voting which directed federal agencies to consider ways to increase access to democracy and develop strategic plans to achieve those goals. Campaign Legal Center wrote to several agencies encouraging them to deliver on the Executive Order's directives and identifying ways they can help expand access to the ballot box.
Campaign Legal Center is urging the Supreme Court to review and put an end to Mississippi's racially discriminatory disenfranchisement system. It is an extreme outlier and a relic of Jim Crow that continues to serve the purpose for which it was enacted: to prevent Black citizens from voting.
The 2024 presidential election is likely to be one of the most contentious ever. In advance of the 2024 election and to protect the will of the people, Congress must update the Electoral Count Act (ECA) of 1887, an outdated law that provides the primary legal framework for casting and counting Electoral College votes in presidential elections.
Voting should be accessible for all citizens, no matter where they live, the color of their skin or how much money they make.
To make every vote count, our elections must be safe and accessible so everyone's voice is heard, including those who have served their time and paid their debt to society. 
CLC believes that state and federal policies should uniformly protect the right to vote, promote trust in our elections and boost voter participation across the United States. Through litigation, policy analysis, state-based advocacy and public education, CLC seeks to protect the freedom to vote and build confidence in our election system. 
Explore all content related to our voting and elections work
Displaying 61 - 80 of 1614 Results