Image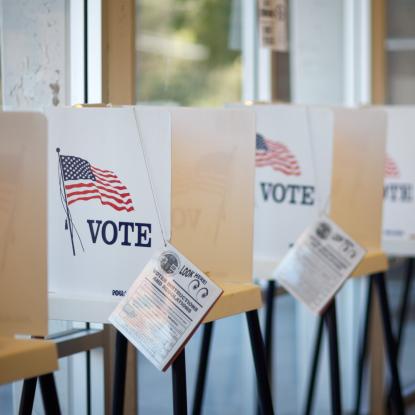 Democracy Decoded: Season 2, Episode 2
Can I Vote?
Democracy Decoded: Season 2, Episode 2
Can I Vote?
The right to vote is a basic American freedom, but  for people with felony convictions, figuring out if they can vote is a huge task. This episode looks at the history of felony disenfranchisement laws and explains how denying the freedom to vote to an entire class of citizens hurts voters, communities and our democracy. Also, Tennessee voters share their experiences regaining the freedom to vote after a felony conviction.
Host and Guests:
Simone Leeper litigates a wide range of redistricting-related cases at CLC, challenging gerrymanders and advocating for election systems that guarantee all voters an equal opportunity to influence our democracy. Prior to arriving at CLC, Simone was a law clerk in the office of Senator Ed Markey and at the Library of Congress, Office of General Counsel. She received her J.D. cum laude from Georgetown University Law Center in 2019 and a bachelor's degree in political science from Columbia University in 2016.
Dawn Harrington is the founder and Executive Director of Free Hearts, an organization which was created to reunite families and keep families together by providing support, education, and advocacy, organizing families impacted by incarceration. During her time in prison, Dawn was disturbed by the impact of incarceration on families, especially moms and kids, and was inspired to make a difference upon her release. Today, Dawn is also Director of Special Projects of National Council for Incarcerated and Formerly Incarcerated Women and Girls, Just Leadership USA fellow, and advisory board member for Nashville Defenders and Unheard Voices Outreach. She has a Bachelor's degree in Recording Industry Management and Public Relations from Middle Tennessee State University and a Master of Business Administration degree in Information Technology from Bethel University.
Blair Bowie manages CLC's Restore Your Vote project, which focuses on ending felony disenfranchisement by democratizing access to rights restoration services and working with directly impacted communities to dismantle systemic barriers to the ballot box through advocacy, litigation and policy change. Prior to joining CLC, Blair worked for five years as an advocate and organizer with the aim of increasing political equality and accountability. As the democracy advocate with the U.S. Public Interest Research Group, she co-authored several reports on the post-Citizens United impact of money in politics, coordinated campaigns and messaging across the organization's chapters, and served as its federal lobbyist on campaign finance reform.
Gicola Lane works directly with CLC's Restore Your Vote team to restore voting rights to people with past felony convictions through direct services, community empowerment and public education. Prior to joining CLC, Gicola served as a community organizer for more than five years for nonprofits, campaigns and grassroots groups. From 2018 to 2021, as a statewide organizer for Free Hearts, a Tennessee-based nonprofit led by formerly incarcerated women that organizes and provides support to families impacted by incarceration, Gicola trained hundreds of people across the state of Tennessee on the rights restoration process, and helped numerous people restore their right to vote.  
Milton Thomas was born and raised in Nashville, Tennessee and now works as a maintenance worker at the Martha O'Bryan Center. The Martha O'Bryan Center is a faith-based organization which provides assistance to residents in Nashville experiencing poverty, and Milton enjoys being able to help his community through his job there. He is passionate about voting and has voted in every election since having his voting rights restored in 2020. He would like to thank Gicola Lane, Keeda Haynes, and Howard Gentry for being very instrumental in him getting his voting rights back. Milton is also the father of five children.
Links:
Success! Study Shows That CLC's Restore Your Vote Outreach Increases Voter Participation (Campaign Legal Center)
CLC's Restore Your Vote Toolkit Cited As Key Resource in DOJ Guide (Campaign Legal Center)
CLC Urges Federal Agencies To Offer Greater Assistance with Voting Rights Restoration (Campaign Legal Center)
About CLC
Democracy Decoded is a production of Campaign Legal Center, a nonpartisan nonprofit organization which advances democracy through law at the federal, state and local levels, fighting for every American's right to responsive government and a fair opportunity to participate in and affect the democratic process. Learn more about us.