Image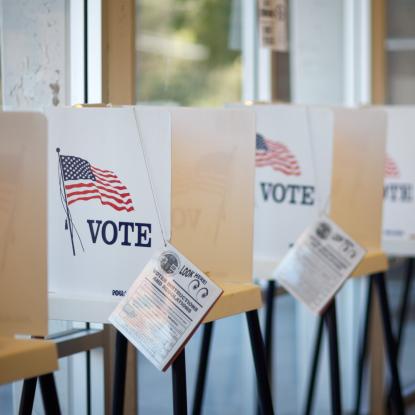 Democracy Decoded: Season 2, Episode 3
What If I Can't Vote in Person?
Democracy Decoded: Season 2, Episode 3
What If I Can't Vote in Person?
Voting at a polling place on Election Day may be easy for some, but many voters  face significant challenges. Transportation, work schedules, and the location of polling places can make it tough for voters with families, jobs, a disability, and more to vote in person.
During the 2020 presidential election, when the COVID-19 pandemic was in full force, many states expanded vote-by-mail access to protect voters from getting sick. There were also drive-thru voting and ballot dropboxes, which  opened many voters' eyes to how accessible voting could be.
In this episode we look at how vote-by-mail works, why it's secure and accurate and how it helps more voters make their voice heard.
Host and Guests:
Simone Leeper litigates a wide range of redistricting-related cases at CLC, challenging gerrymanders and advocating for election systems that guarantee all voters an equal opportunity to influence our democracy. Prior to arriving at CLC, Simone was a law clerk in the office of Senator Ed Markey and at the Library of Congress, Office of General Counsel. She received her J.D. cum laude from Georgetown University Law Center in 2019 and a bachelor's degree in political science from Columbia University in 2016.
Reynaldo (Rey) Valenzuela has been working in the field of elections for over 32 years. He currently serves as the Director of Mail-In Voting and Election Services for Maricopa County, Arizona that presently serves over 2.4 million registered voters. He supports the administration of several election processes to include the candidate/campaign filing division, customer service division, early voting department, and shared oversight of the tabulation process. Rey serves or has served on various election related panels for various organizations to include as a local election official representative for Arizona on the Bipartisan Policy Center (BPC) or as a deputy member of the Election Officials of Arizona (EOA) Association. He also served for 15 years as one of the two Representatives from Arizona on the Election Assistance Commission Standards Board.
Jonathan Diaz is Senior Legal Counsel for Voting Rights at Campaign Legal Center. He litigates voting rights cases on behalf of voters across the United States, and works to advance laws and policies that expand the freedom to vote for all Americans. Before joining CLC, Jonathan was a litigation associate in the New York office of Jenner & Block LLP, where he litigated a variety of civil and criminal matters. He represents voting rights plaintiffs and amici in numerous cases, including Raysor v. Lee, VoteAmerica v. Raffensperger, Thompson v. Alabama and Brnovich v. DNC. Jonathan also participates on behalf of CLC on a number of democracy reform coalitions, coordinating CLC's work with partner organizations at the national, state and local levels. He also frequently provides commentary on voting rights and election law issues in the media; he has been quoted in publications including the New York Times, the Miami Herald and ProPublica, and has appeared on Univision, NPR and CNN, where he was an election law analyst for the 2020 election cycle.
 Michelle Bishop leads a team to support NDRN's national network on voting rights and voter engagement for people with disabilities. She also works in coalition with the civil rights community in Washington, DC to ensure strong federal policy regarding voting rights and election administration from a voter-centric and intersectional perspective. Michelle loves democracy so much that she registered to vote on her 18th birthday, even though it wasn't an election year. It is ill-advised to get her started talking about the historical significance of the first peaceful transfer of the US presidency or the intricacies of the Electoral Count Act. Disabled herself, Michelle comes to NDRN with over 15 years experience in the disability vote.
Links:
Here's Why You Should Have the Freedom To Vote By Mail (Campaign Legal Center)
Demystifying Vote-by-Mail for All Americans (Campaign Legal Center)
Combatting State-Level Bills Restricting The Freedom To Vote (Campaign Legal Center)
Voter Participation Nonprofits Are Crucial for Democracy. We Must Protect Their Work. (Campaign Legal Center)
About CLC:
Democracy Decoded is a production of Campaign Legal Center, a nonpartisan nonprofit organization which advances democracy through law at the federal, state and local levels, fighting for every American's right to responsive government and a fair opportunity to participate in and affect the democratic process. Learn more about us.