Image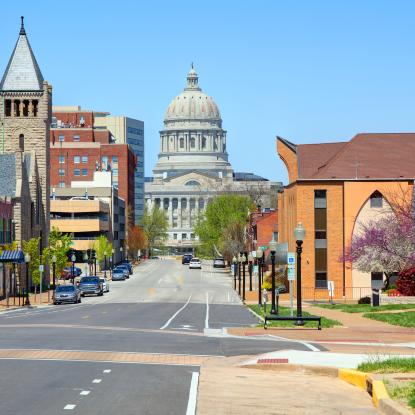 Democracy Decoded: Season 3, Episode 7
Better Choices, Better Elections
Democracy Decoded: Season 3, Episode 7
Better Choices, Better Elections
Across the country, voters are organizing to protect their right to elect candidates of their choice. In the final episode of Season 3 of Democracy Decoded, host Simone Leeper explores the changing landscape of state and local elections, and some of the initiatives that can help ensure voters can choose candidates who truly represent their interests. This forward-looking episode offers a glimpse into innovative reforms that hold the promise of strengthening democracy.
Simone speaks with Susan Soto Palmer, a community advocate and plaintiff that Campaign Legal Center represented in a landmark discrimination case in Yakima County, Washington. Mark Gaber, Senior Director for Redistricting at CLC delves into the problems with at-large districts and how they dilute the voting power of communities of color. Then, the Executive Director of Alaskans for Better Elections, Juli Lucky, explains to Simone how Alaska has enacted ranked choice voting and why states around the country are using this tool to improve democratic elections. Alexandra Copper, Legal Counsel for Litigation at CLC, breaks down how ranked choice voting can ensure that voters' voices are being heard. 
Host and Guests:
Simone Leeper litigates a wide range of redistricting-related cases at CLC, challenging gerrymanders and advocating for election systems that guarantee all voters an equal opportunity to influence our democracy. Prior to arriving at CLC, Simone was a law clerk in the office of Senator Ed Markey and at the Library of Congress, Office of General Counsel. She received her J.D. cum laude from Georgetown University Law Center in 2019 and a bachelor's degree in political science from Columbia University in 2016.
Susan Soto Palmer is a dedicated community advocate in Yakima County. With a deep commitment to equitable and innovative solutions, Susan actively strives to increase public access to and transparency within our political systems. In 2018, Susan made a significant impact by running for Yakima County Commissioner District No. 3 and securing an impressive 26.00% of the primary election votes. While the general election did not yield the desired outcome, Susan remains resolute in her mission to engage every possible voter in the pursuit of progress and the protection of the most vulnerable among us.
Susan has championed voting rights through her involvement in the Washington State Voting Rights litigation, Aguilar, et al. vs. Yakima County Commissioners, et al. and the federal Voting Rights Act litigation, Soto Palmer, et al. vs. Hobbs, et al. She firmly believes that together, we can advocate for progressive, culturally responsive, and equitable policies that support families, enhance quality of life, prioritize education, foster safe and prosperous communities, and provide quality healthcare for all.
Mark Gaber is Senior Director, Redistricting at Campaign Legal Center. He manages CLC's redistricting litigation and policy program, which seeks to achieve fair maps for racial and language minority groups, and to curb the influence of partisanship in redistricting. Mark has served as counsel in major redistricting cases over the past 10 years, including Abbott v. Perez, Cooper v. Harris, Alabama Legislative Black Caucus v. Alabama and Texas v. United States. Prior to joining CLC, Mark was an associate at Jenner & Block LLP in the firm's Appellate & Supreme Court, Election Law & Redistricting, and Media and First Amendment practice groups. Mark clerked for the Hon. Judith W. Rogers on the United States Court of Appeals for the D.C. Circuit.  
Juli Lucky is the Executive Director of Alaskans for Better Elections, which advocates for changes to the Alaska electoral system to empower voters, increase competition for elective office, and improve voter access. It also educates voters, policy makers, and the public on the Alaska election system: a nonpartisan "Final Four" primary followed by a Ranked Choice Voting general election. Before joining ABE, Juli worked briefly with the Alaska Redistricting Board after spending more than 20 years working for the Alaska State Legislature. A nonpartisan who worked for legislators from both parties, Juli was known for negotiating compromise legislation on diverse topics including oil taxes, education funding, fisheries issues, and COVID-19 economic hardship relief.  Juli lives in Anchorage, Alaska with her children, two dogs, and a revolving door of foster pups.
Alexandra Copper is Legal Counsel, Litigation at Campaign Legal Center. After law school, Alex joined CLC as a fellow, contributing to campaign finance, voting rights, and redistricting cases at both the trial and appellate levels. She also worked to advance various democracy reforms, including ranked-choice voting, disclosure laws and contribution limits, and legislative efforts to increase the accessibility of voting. After her fellowship, Alex clerked for the Honorable Valerie E. Caproni on the U.S. District Court for the Southern District of New York.
Links:
My Fight for Fair Representation in Washington
Advocating for Fair Representation in Yakima County, Wash.
Alaska's Ranked Choice Voting Winners Earn Strong Mandates and Reflect the State's Political Diversity
About CLC:
Democracy Decoded is a production of Campaign Legal Center, a nonpartisan nonprofit organization which advances democracy through law at the federal, state and local levels, fighting for every American's right to responsive government and a fair opportunity to participate in and affect the democratic process. Learn more about us.
Democracy Decoded is part of The Democracy Group, a network of podcasts that examines what's broken in our democracy and how we can work together to fix it.