Image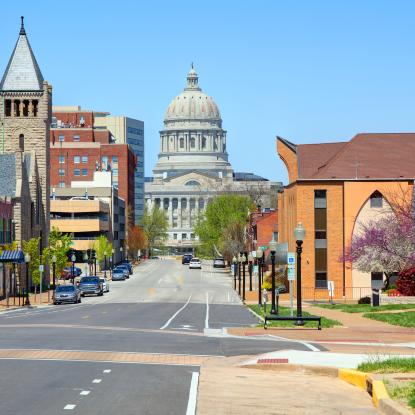 Democracy Decoded: Season 3, Episode 3
Your Community, Your Election
Democracy Decoded: Season 3, Episode 3
Your Community, Your Election
An enormous amount of work goes into planning for Election Day. For months, poll workers and election administrators prepare to run their local elections smoothly to ensure that no one is left out of the democratic process. In this episode, host Simone Leeper takes listeners on a journey through the intricate process of running a local election, from its initial stages to the final vote tally. This comprehensive exploration highlights the checks and balances in place to facilitate voter participation and to guarantee that the final results will be accurate. In interviews with election administrators and experts, this episode underscores the commitment to ensuring free, fair and secure elections while promoting inclusivity and accessibility for all eligible voters.
Simone engages in a captivating conversation with two experienced election workers: Scott Jarrett from Maricopa County, Arizona, and Lorena Portillo of Las Vegas, Nevada. They provide a valuable insider's perspective on the behind-the-scenes workings of the electoral process. Simone also speaks with Campaign Legal Center's Director of Voting, Advocacy and Partnerships, Jonathan Diaz, who breaks down the election process, from voter registration and polling station setup to ballot counting and result certification. Each guest offers a detailed glimpse into the meticulous planning and execution that goes into safeguarding the democratic process.
Host and Guests:
Simone Leeper litigates a wide range of redistricting-related cases at CLC, challenging gerrymanders and advocating for election systems that guarantee all voters an equal opportunity to influence our democracy. Prior to arriving at CLC, Simone was a law clerk in the office of Senator Ed Markey and at the Library of Congress, Office of General Counsel. She received her J.D. cum laude from Georgetown University Law Center in 2019 and a bachelor's degree in political science from Columbia University in 2016.
Scott Jarrett has been with Maricopa County Elections, a Department of the Board of Supervisors, for over four years. He currently serves as the Elections Director responsible for directing all in-person voting, tabulation operations, candidate filing, campaign finance, and warehouse operations. Scott is a wealth of knowledge directing the department operations and implementing strategic direction. He works closely with the Maricopa County Recorder, Maricopa County Board of Supervisors and reports to the Maricopa County Manager. Scott is also an Elections Task Force member of the Bi-Partisan Policy Center, a member of the Election Assistance Commission Local Leadership Council and serves as president of the Election Officials of Arizona.
Lorena S. Portillo was appointed the Clark County Registrar of Voters in March 2023, bringing more than 25 years of experience in elections to the office. As Registrar, Lorena serves as director of the County Election Department and is responsible for administering all local, state and federal elections for more than 1.3 million registered voters in Clark County. Lorena first joined the Election Department in 1998 as a part-time worker. She soon earned a full-time position with the department and steadily rose through the ranks, ultimately serving as Assistant Registrar of Voters for eight years. Ms. Portillo was born and raised in Las Vegas. She received a Bachelor of Science degree from the University of Phoenix and is a Certified Elections Registration Administrator through The Election Center.
Jonathan Diaz is Director of Voting, Advocacy and Partnerships at Campaign Legal Center. He advocates for laws and policies that expand the freedom to vote for all Americans, and coordinates CLC's relationships with national, state and local voting rights partners. Jonathan helps lead CLC's work on combating election interference and participates on behalf of CLC on a number of democracy reform coalitions, coordinating CLC's work with partner organizations at the national, state and local levels. He also litigates voting rights cases across the United States, including VoteAmerica v. Raffensperger (N.D.Ga.), LUCHA v. Fontes (D.Ariz.), and Raysor v. Lee (N.D.Fla./11th Cir./SCOTUS). Jonathan frequently provides commentary on voting rights and election law issues in the media; he has been quoted in publications including the New York Times, Miami Herald and ProPublica, and has appeared on Univision, NPR and CNN, where he was an election law analyst during the 2020 election cycle.
Links:

In-Person Voting Access
Count Every Vote, So Every Vote Counts
Election Workers Deserve to Feel Safe. Nevada is Taking Action
About CLC:
Democracy Decoded is a production of Campaign Legal Center, a nonpartisan nonprofit organization which advances democracy through law at the federal, state and local levels, fighting for every American's right to responsive government and a fair opportunity to participate in and affect the democratic process. Learn more about us.
Democracy Decoded is part of The Democracy Group, a network of podcasts that examines what's broken in our democracy and how we can work together to fix it.