Voting and Elections
In our elections, every voice must be heard, and every vote must count. Voting should be accessible for all citizens, and our laws should promote participation in our democracy and instill trust in our elections.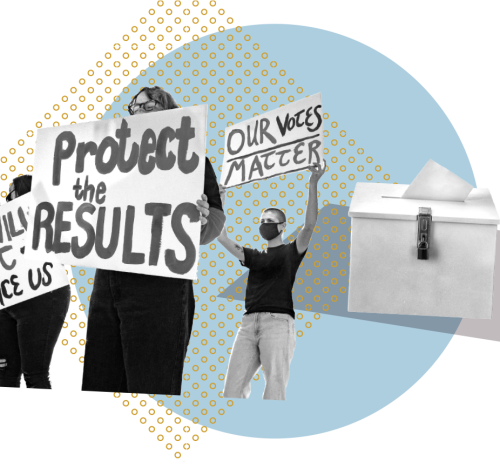 The Latest on Voting and Elections
Ultra Featured Article
Photo by Bonnie Cash/UPI/Alamy Live News
The Supreme Court case that could allow state legislatures to sabotage elections
Voters should be the ones who decide elections, not partisan politicians.
Recent voting cases and actions
Campaign Legal Center is urging the Supreme Court to review and put an end to Mississippi's racially discriminatory disenfranchisement system. It is an extreme outlier and a relic of Jim Crow that continues to serve the purpose for which it was enacted: to prevent Black citizens from voting.
The 2024 presidential election is likely to be one of the most contentious ever. In advance of the 2024 election and to protect the will of the people, Congress must update the Electoral Count Act (ECA) of 1887, an outdated law that provides the primary legal framework for casting and counting Electoral College votes in presidential elections.
The ECA has not been updated since it was first enacted over 130 years ago. During the 2020 presidential election, bad actors exploited archaic language and ambiguities in the ECA to try to overturn the election results. This plan included attempts by partisan politicians to overrule the voters and throw out states' certified presidential election results.
On behalf of a local organizer and community engagement groups, CLC is challenging Tennessee's felony prohibition on distributing absentee ballot applications, which deters organizations and individuals from encouraging and assisting eligible voters in obtaining mail ballots.
Voting should be accessible for all citizens, no matter where they live, the color of their skin or how much money they make.
To make every vote count, our elections must be safe and accessible so everyone's voice is heard, including those who have served their time and paid their debt to society. 
CLC believes that state and federal policies should uniformly protect the right to vote, promote trust in our elections and boost voter participation across the United States. Through litigation, policy analysis, state-based advocacy and public education, CLC seeks to protect the freedom to vote and build confidence in our election system.