Image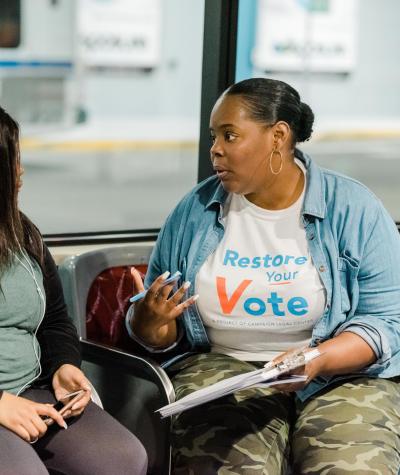 Campaign Legal Center's virtual event, "Rights Restoration and the Criminalization of Voting" was held on May 8, 2023 and featured a panelist discussion on the issue of felony disenfranchisement.
Over 5 million Americans are currently silenced in our democracy because of a past felony conviction. This level of disenfranchisement is a product of legislation enacted during the Reconstruction period which intentionally sought to strip Black Americans of their newfound freedom. Today, these laws continue to disproportionately impact Black and brown voters.
During the event, our panelists explored the nationwide impact of felony disenfranchisement and how the recent prosecutions of people with felony convictions attempting to register to vote or cast a ballot harm our democracy. Panelists also discussed the potential solutions at hand, including some that have already passed state legislatures.
The virtual event was a conversation with Blair Bowie of Campaign Legal Center who oversees the center's Restore Your Vote project, Dawn Harrington of Free Hearts and Ramon "Ray" de la Cabada who is co-chair of the Criminalization of Voting Committee at the National Association of Criminal Defense Lawyers (NACDL). The Guardian's Sam Levine, a national reporter covering voting rights in the US, served as moderator.
Event Video