Image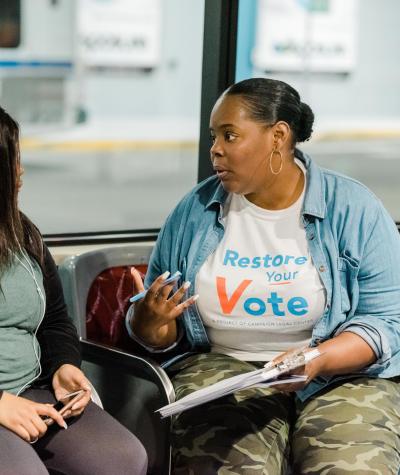 Campaign Legal Center's (CLC) Restore Your Vote Advocate Gicola Lane joined When We All Vote for its event "Returning Citizens IG LIVE PANEL" on Sept. 30, 2021. During the event, the panelists used National Voter Registration Week—occurring from September 25 through October 3—to have a conversation about the state of voting rights for citizens with past felony convictions on their records.
Up to 18 million Americans are unaware they are eligible to vote because of confusing felony disenfranchising laws. While historic gains have been made on this issue in states like Florida in recent years, there has also been an aggressive pushback. Lawmakers in states across the nation have introduced over 400 anti-voter bills in 2021 alone, many of which target communities of color.
Our democracy functions best when all citizens can vote without barriers. We must ensure that Americans have equal access to the freedom to vote, no matter our color, background or zip code.
Event Video