Image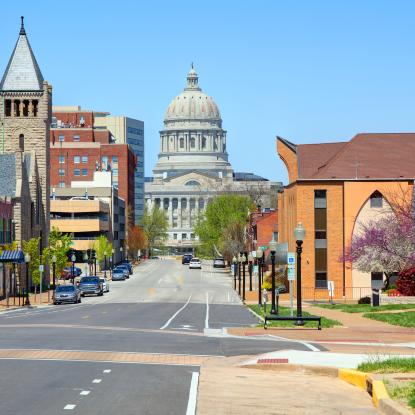 Democracy Decoded: Season 3, Episode 6
Keeping an Eye on Ethics
Democracy Decoded: Season 3, Episode 6
Keeping an Eye on Ethics
When we elect representatives, we expect them to be held accountable to the people they represent and the laws they are subject to. But how can voters be sure that elected officials are acting with their best interests in mind? In this enlightening episode of Democracy Decoded, host Simone Leeper explores the pivotal role that state and local ethics commissions play in safeguarding the integrity of the democratic process and dives into some of the scandals that have brought about their creation. This episode underscores how independent oversight is crucial in preventing corruption. 
Simone begins by talking to Jeremy Farris who shares his first hand experiences with the creation of an ethics commission in New Mexico. Kedric Payne, the Vice President, General Counsel and Senior Director of Ethics at Campaign Legal Center, explains how commissions fight corruption and offers insights on how they can be implemented across the country. Senior Legal Counsel for Ethics at CLC, Delaney Marsco, describes the mechanisms that allow ethics commissions to hold government officials accountable. Simone then speaks with LeeAnn Pelham, a longtime democracy advocate who directed ethics commissions in California, who tells the story of the scandal that sparked the creation of the ethics commission in Los Angeles. 
Host and Guests:
Simone Leeper litigates a wide range of redistricting-related cases at CLC, challenging gerrymanders and advocating for election systems that guarantee all voters an equal opportunity to influence our democracy. Prior to arriving at CLC, Simone was a law clerk in the office of Senator Ed Markey and at the Library of Congress, Office of General Counsel. She received her J.D. cum laude from Georgetown University Law Center in 2019 and a bachelor's degree in political science from Columbia University in 2016.
Jeremy Farris is the Executive Director of the New Mexico State Ethics Commission. He previously served as General Counsel to New Mexico's Department of Finance and Administration and practiced law at litigation firms both in Atlanta, Georgia and Albuquerque, New Mexico. Jeremy clerked for the Honorable Julia S. Gibbons on the United States Court of Appeals for the Sixth Circuit; the Honorable Judith K. Nakamura on the New Mexico Supreme Court; and the Honorable James O. Browning on the United States District Court for the District of New Mexico. He holds a law degree from Harvard Law School, a doctorate and masters degree from the University of Oxford, where he was a Rhodes Scholar, and a Bachelors of Science from the Georgia Institute of Technology.
Kedric Payne is Vice President, General Counsel and Senior Director of Ethics at Campaign Legal Center. He specializes in government ethics, lobbying law and election law. He began his career in private practice and has since served in the three branches of federal government. Prior to joining CLC, he advised on executive branch ethics laws as a deputy general counsel at the U.S. Department of Energy.  He also enforced legislative branch ethics laws and standards of conduct as deputy chief counsel of the Office of Congressional Ethics, where he was one of the office's first investigators. Prior to OCE, Kedric practiced political law at Skadden, Arps, Slate, Meagher & Flom, and advised lobbyists and government contractors on compliance with federal, state and local laws governing campaign finance, lobbying and ethics. Kedric began his career as a litigator at Cravath, Swaine & Moore in New York.
Delaney Marsco is Senior Legal Counsel, Ethics at Campaign Legal Center. She works on CLC's ethics watchdog and policy reform efforts at all levels of government. Delaney's work encompasses a wide range of ethics issues, including congressional stock trading reform and conflicts of interest in the federal executive branch. Her watchdog work has led to numerous investigations into ethics violations by members of Congress and senior executive branch appointees, and her expertise is regularly relied on for ethics reform legislation. Delaney's expert analysis has been featured in national print news publications, including The Washington Post, The New York Times and the Wall Street Journal, and she has appeared on television and radio programs on CNBC, C-SPAN and NPR. Prior to joining CLC, Delaney was an associate in Goldman Sachs's financial crime compliance division, where she created, tested and administered firm-wide electronic surveillances.
LeeAnn Pelham has worked to advance accountability and public trust in local government for over 30 years. As Executive Director of voter-created ethics commissions in both San Francisco and in Los Angeles, LeeAnn initiated and led political reform programs to strengthen the effectiveness of government and promote its responsiveness to the public. At both agencies, she was responsible for the development, implementation and enforcement of local ethics, lobbying, and campaign finance laws, including broad public disclosure programs, compliance guidance, and public campaign financing systems that provide matching funds for eligible city candidates. She has also provided executive direction and guidance to support ethics and organizational performance in public service in leadership roles with the Council on Governmental Ethics Laws (COGEL) and while serving as Director of Ethics and Corporate Governance for the Santa Clara Valley Water District. Prior to working in local government, LeeAnn conducted performance audits for the California Auditor General's Office and was a Senior Political Organizer for Common Cause in Washington, D.C.
Links:
Ethics Commissions Across the Country are Using Innovation to Fight Corruption
Top Ten Enforcement Upgrades for Ethics Commissions
About CLC:
Democracy Decoded is a production of Campaign Legal Center, a nonpartisan nonprofit organization which advances democracy through law at the federal, state and local levels, fighting for every American's right to responsive government and a fair opportunity to participate in and affect the democratic process. Learn more about us.
Democracy Decoded is part of The Democracy Group, a network of podcasts that examines what's broken in our democracy and how we can work together to fix it.