Image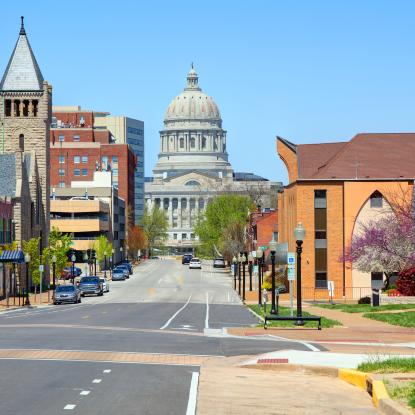 Democracy Decoded: Season 3, Episode 5
Contribution Limits (and Lack Thereof)
Democracy Decoded: Season 3, Episode 5
Contribution Limits (and Lack Thereof)
Campaign contribution limits are one of the few mechanisms in place to prevent wealthy special interests from spending unlimited money to rig the political system in their favor. But there are some states where it's just too easy to skirt around these limits and other states that actually don't have limits at all. In this episode of Democracy Decoded, host Simone Leeper highlights how without campaign contribution limits, the vast financial resources of special interests can outweigh the priorities of everyday citizens. Experts and advocates discuss the intricacies of the electoral playing field, and how to best protect the voter's right to elect candidates who truly represent their values. They highlight the work of grassroots coalitions and advocacy groups working together for fair and equitable campaign finance laws in states like Illinois and Oregon.
Simone speaks with Alisa Kaplan, the Executive Director of Reform for Illinois, who illustrates how a provision in state law allows candidates to amass unlimited campaign contributions. Campaign Legal Center's founder and President Trevor Potter, and Patrick Llewellyn, Director of State Campaign Finance, offer insights into the broader landscape of states without contribution limits, and the importance of these laws in preserving the integrity of the democratic process. Simone also speaks with Kate Titus, the executive director of Common Cause Oregon, about a recent amendment in Oregon that introduced the possibility of contribution limits in the state, and the years of advocacy by voters that led to change.
Host and Guests:

Simone Leeper litigates a wide range of redistricting-related cases at CLC, challenging gerrymanders and advocating for election systems that guarantee all voters an equal opportunity to influence our democracy. Prior to arriving at CLC, Simone was a law clerk in the office of Senator Ed Markey and at the Library of Congress, Office of General Counsel. She received her J.D. cum laude from Georgetown University Law Center in 2019 and a bachelor's degree in political science from Columbia University in 2016.
Alisa Kaplan is the Executive Director of Reform for Illinois. She joined the organization in 2018, drawn to its long history of fighting for campaign finance reform and against systemic corruption. As Executive Director, she leads RFI's policy development, advocacy, and educational initiatives and oversees operations. A Yale graduate with a J.D. and Ph.D. in Political Science from Northwestern University, Alisa brings expertise in law and the political process and a background in community organizing, grassroots activism, and nonprofit administration. She has been a Faculty Lecturer at Northwestern, teaching Constitutional Law, Civil Rights, and Law and Politics. In her role at RFI, Alisa feels fortunate to be able to spend every day fighting for a more ethical and equitable Illinois government that works not just for the wealthy and well-connected, but for everyone.
Trevor Potter is the founder and President of Campaign Legal Center. He leads CLC in its efforts to advance democracy through law. A Republican former Chairman of the Federal Election Commission (FEC), Trevor was general counsel to John McCain's 2000 and 2008 presidential campaigns and an adviser to the drafters of the McCain-Feingold campaign finance law. To many, he is perhaps best known for his recurring appearances on The Colbert Report as the lawyer for Stephen Colbert's super PAC, Americans for a Better Tomorrow, Tomorrow, during the 2012 election, a program that won a Peabody Award for excellence in reporting on money in politics.  Trevor has provided testimony and written statements to Congress on federal election proposals, campaign finance regulation and, recently, the effects of the January 6th attack on our democracy. He has also taught campaign finance law at the University of Virginia School of Law and Oxford University, and he has appeared widely in national broadcast and print media. During the 2020 election season, Trevor was named to the cross-partisan National Task Force on Election Crises.
Patrick Llewellyn is Director, State Campaign Finance at Campaign Legal Center. He directs CLC's work with state and local stakeholders and policymakers to advance innovative campaign finance policies. Prior to joining CLC, Patrick worked as an attorney at Public Citizen Litigation Group, where his practice focused on government transparency and he represented nonprofits, journalists and researchers at all levels of federal court, and as a staff attorney/teaching fellow in the Civil Rights Clinic at Georgetown University Law Center, where he supervised law students on voting rights, workers' rights and other civil rights matters in state and federal courts.
Kate Titus serves as executive director of Common Cause Oregon. She brings to this work a background in public policy and community organizing, having worked previously for a number of other public interest organizations including Public Citizen and Oregon Action. Kate is a graduate of Connecticut College, and earned a Masters in Public Administration from Harvard.
Links:
Campaign Contribution Limits: Overview
State-by-state comparison of campaign finance requirements
Campaign finance requirements in Illinois
Campaign finance limits could come up short in Oregon Legislature — again
About CLC:
Democracy Decoded is a production of Campaign Legal Center, a nonpartisan nonprofit organization which advances democracy through law at the federal, state and local levels, fighting for every American's right to responsive government and a fair opportunity to participate in and affect the democratic process. Learn more about us.
Democracy Decoded is part of The Democracy Group, a network of podcasts that examines what's broken in our democracy and how we can work together to fix it.