J. Gerald Hebert
J. Gerald Hebert ("Gerry") consults on voting rights litigation and conducts training for CLC's litigation team and staff.
Image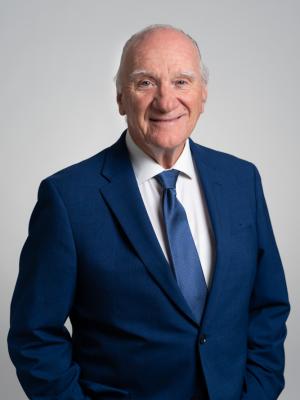 From 1973 to 1994, Gerry served in the Department of Justice, where he served in many supervisory capacities, including Acting Chief, Deputy Chief and Special Litigation Counsel in the Voting Section of the Civil Rights Division. In these positions, Gerry served as the lead attorney in numerous voting rights and redistricting lawsuits, often supervising several less experienced attorneys in major voting rights litigation. He also has served as chief trial counsel in over 100 voting rights lawsuits, a number of which were ultimately decided by the Supreme Court of the United States.
In his Justice Department career, Gerry also prepared and analyzed numerous statewide and local government redistricting plans for compliance with applicable legal standards, prepared budgets for litigation, analyzed proposed federal election legislation and instructed newly hired attorneys on the conduct of litigation at the Department of Justice's training center. During his 20 year tenure with the Department of Justice, Gerry received numerous awards and commendations, including an award for his work in connection with the Boston school desegregation crisis of 1975.
In 1994, Gerry left the Department of Justice and opened a solo law practice in Alexandria, Virginia, that specializes in election law and redistricting. Gerry's legal practice is national in scope, representing clients (including many local governments) in Texas, California, New York, South Carolina and Virginia, among other states. Over the last three decades, he has served as legal counsel for parties and amici curiae in numerous redistricting lawsuits, including several cases decided in the Supreme Court of the United States.
In addition to his private practice, Gerry has served as an Adjunct Professor of Law at Georgetown University Law Center, in Washington, D.C., where, from 1995 to 2007, he taught courses on voting rights, election law and campaign finance regulation. In 1995, he also taught election law at the American University's Washington College of Law. In 1998, he co-taught a course on voting rights law at the University of Virginia School of Law with Professor Pamela Karlan.
From 1994 to 1995, Gerry served as a part-time staff attorney for the national office of the Lawyers' Committee for Civil Rights Under Law, in Washington, D.C., where he specialized in voting rights cases.
From 1999 to 2002, Gerry served as General Counsel to IMPAC 2000, the National Redistricting Project for Congressional Democrats.
Gerry has authored a number of law journal articles and other publications on redistricting and the Voting Rights Act. His most recent publications include "Bailout Under the Voting Rights Act" in America Votes (Published by the American Bar Association's Section of State and Local Government)(Ben Griffith Editor); "An Assessment of the Bailout Provisions of the Voting Rights Act" in Voting Rights Act Reauthorization of 2006 (University of California, Berkeley Press); "Redistricting in the Post-2000 Era," in the George Mason University Law Review, and "The Realists' Guide to Redistricting", published by the American Bar Association's Section of Administrative Law and Regulatory Practice (co-authored).